This design is the last of the so-called "name" patterns. This design was made as a quarter J1698/P1900, a half dollar J1700/P1902 and a silver dollar J1702/P1904. It is not known if a dime was ever contemplated.

About 10-12 sets were made in silver and about 5-7 sets were made in copper. The only original set confirmed today is the silver one in the Smithsonian which was acquired for the Mint Collection on March 3, 1885 and is illustrated below. The Dr. Judd set, last offered in the Sieck-81 ANA sale, is no longer intact.

The first set offered in the marketplace was a copper one in H.P. Smith's 6/1886 Maris sale and is likely one of 2 copper sets H. Newlin received in trade from the Mint cabinet on 2/16/1886 for a J1216/P1357 as noted in the Mint Cabinet Acquisition book. The first silver set sold in the 1890 Parmelee sale. For pedigree information on this design, click here.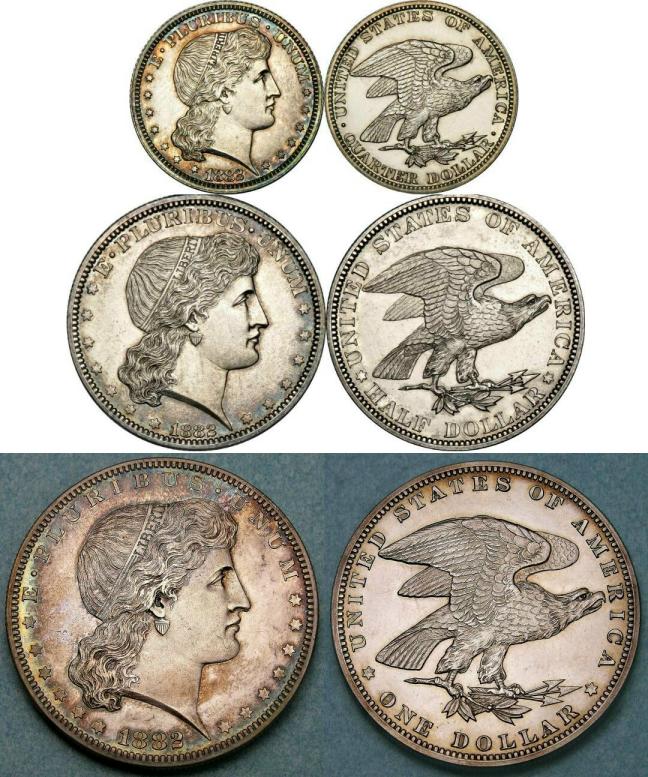 Photos courtesy of Tom Mulvaney and the National Numismatic Collection of the Smithsonian Institution.